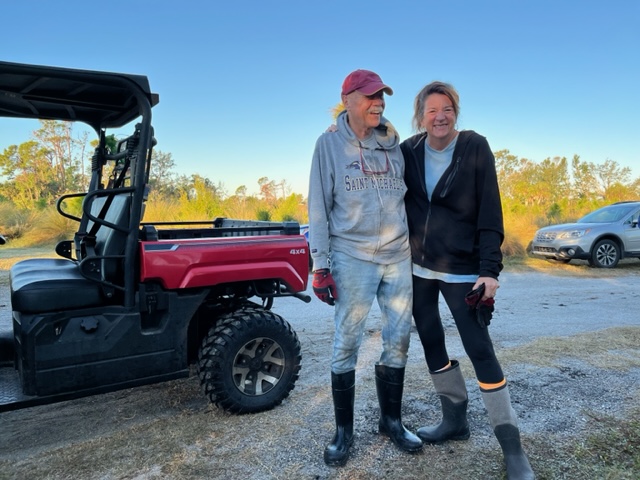 You've probably seen them scattered along the trails and vista points, at Lemon Creek Wildflower Preserve; simple-looking benches with small plaques engraved with quotes, the name of the person the bench is dedicated to, and significant dates. These are the memorial and tribute benches of Lemon Bay Conservancy. The benches are typically dedicated as  tributes or memorials to someone special. Each one of the 45 benches hold space for honoring a long standing Lemon Bay Conservancy donor, LBC family member, or individual. The benches provide visitors with a scenic, tranquil place of rest. 
These thoughtful gifts and what they stand for, are serious matters to LBC volunteers Paul Townsend and Laurie Brenning. In addition to their other maintenance duties mowing, vine cutting, clearing brush, and a variety of other cleaning details, the duo make their rounds through the Preserve caring for each individual bench. The gift of a bench serves as a lasting tribute that benefits members that visit the Preserve. "These benches hold stories about the life of the person and live on for others to hear. Laurie and I take turns sitting on each bench during the upkeep cycle in order to honor the contributions and memories of the those named there," shares Paul.
Offering safe, outdoor places for members to sit and reflect is of great importance to visitors who need a place to stop and rest. "Remembering to slow down, stop along the way and take in the natural beauty of the surroundings at the Lemon Creek Wildflower Preserve is really what we are hoping to encourage our visitors to do," says Laurie. Demonstrating powerful common bonds through service and care, our dedicated volunteer work crew continues to bring beauty and respite to the Preserve. The current memorial and tribute bench program is fully subscribed and we are looking forward to launching a new campaign that will allow for new  tribute and memorial options.